A Plus Plastic Playing Cards Review
A Plus Plastic Playing Cards
Sample deck provided by

These are nice plastic cards that are probably most similar to the Royal Playing Cards. They have a bit of the same mirror-like look and feel to them and are a bit slippery, but not nearly as much as the Royal's.
The A Plus colors are very dark and deep. The red is more bright than on the Royal's. The artwork is nice but a bit too heavy. The lines are thick, blotchy, and not well defined. The white is very nice and bright, slightly less bright than the Royal cards.
These cards have much more of a paper feel to them than the Royal cards. They are some of the thickest cards that I reviewed but they do not feel too stiff. They feel like a mixture of the Royal and Copag playing cards.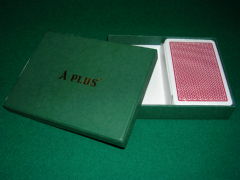 The thickness of all 52 playing cards was 16.60mm. Ten cards weighed 21.5 grams which is quite heavy for bridge size cards. These are some of the heaviest and thickest cards that I have reviewed. Imagine a card with the deep colors and glossiness of the Royal cards but with the feel of the Copag cards.
My A Plus cards came in a two-deck cardboard box. You must store both decks together in the same box, which has no latch so you must use an elastic band to keep it closed. It is a nice sturdy box and reminds me of a jewelers box.
The numbers are very close to the side edge of the card, the closest of any card I have seen. The corners are more rounded than the Royal cards.
Give me a couple months to play with these cards before I tell you how they feel and how long they last.
Playing Card Reviews