WPT Plastic Playing Cards Review
Sample deck provided by
ChipsAndGames
WPT Plastic Playing Cards
These cards are a plastic version of the WPT paper cards. They have the same basic design as the paper Bee 92 cards except for the very noticeable "Made in Spain" marking on the ace of spades. The WPT plastic cards are made by the USPC, the same company that manufactures the new KEM cards, although the KEM cards are made in the U.S.A..
The design and colors are nothing spectacular, they are the same basic graphics as the paper cards. The colors are about the same quality and depth as the Copag cards, but both are much fainter than the KEM. The black is the same as a Copag, but again, much fainter than a KEM card. The white is brighter than the Copag and much brighter than the KEM.
Texture-wise, they felt like a combination of a KEM and a Modiano/Dal Negro. They have the thickness of the Modiano but the smoothness of the KEM. One of best aspects of KEM cards is that cards do not slide off the top of a stacked decks as easily as other brands. The WPT plastic cards, however, are quite slippery and do slide off the top of a stacked deck. This is a common trait in all new plastic cards (KEM's are the least slippery) and it will take a night of using them at my next home tournament on Oct. 12th to see how quickly they lose their slipperiness.
The thickness of all 52 playing cards was 16.50mm. This is quite thick for plastic cards and you can feel it. The cards do not feel as thick as Modiano or Dal Negro cards, but they do feel much thicker than a KEM or Copag and you can notice the edges much more. Ten bridge size cards weighed 20 grams.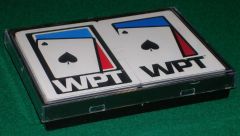 The cards come in a nice plastic box with a clear top that does stay closed. The divider in the middle of the box could be a little higher to avoid cards spilling from one side to the other. You have to turn the box upside down to remove one or both decks of cards.
There was almost no smell when a new deck was opened from it's plastic wrapper. If anything, they had a nice smell, almost flowery! This is certainly much different than any other new plastic card that I have had the pleasure to enjoy!
The WPT plastic cards performed well in damage tests and seem to have the same durability of the KEM cards. Since they are a thicker card, they did not bend back quite as easily as a KEM.
I will be using these cards in my home tourney in a couple weeks so will have more to report then.
Playing Card Reviews