DaVinci Plastic Playing Cards Review

DaVinci Ruote Playing Cards

DaVinci Neve Playing Cards
These are plastic playing cards manufactured in Italy by Modiano. They are very similar to the actual Modiano cards, with the same graphics, texture, and feel. The back design on the Neve is identical to the Modiano Super (poker size) and Modiano Classic (bridge size) brands and the back design on the DaVinci Ruote is identical to the Modiano Bike Trophy brand. Although the DaVinci cards are a bit thinner and lighter than the Modiano Super's, they seem to have the same feel and texture and do not seem any thinner when handled. They are a couple dollars cheaper than the Modiano cards.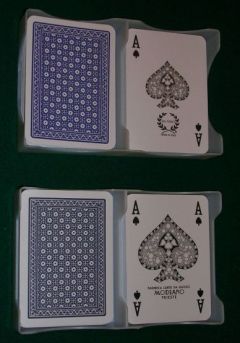 Here is an image of the DaVinci cards at the top and Modiano Super cards at the bottom. Both cards come in a double-tray that slides into a cardboard box.There are several differences between the two brands of cards ...
The Modiano Super have four pips compared to the DaVinci two-pips.
The Modiano cards are a deeper (security) red color. The DaVinci are normal ink. There is also a very slight difference in the color of the backs.
Fifty-two DaVinci cards are 16.6mm thick whereas the Modiano Super cards are 17.5mm thick.
Sample deck of Neve
cards provided by

Sample deck of Ruote
cards provided by

ChipsAndGames.com
Playing Card Reviews