Graphica Plastic Playing Cards Review
Graphica Plastic Playing Cards
These bridge size cards are made in Canada by Quebecor World Graphica. They are as thick as the Dal Negro and Modiano cards but have a much smoother texture and a 'plastic' feel. They feel like a combination of the Modiano and A-Plus playing cards. They have the smoothness and the plastic feeling of an A-Plus but the thickness of a Modiano/Dal Negro. They do not, however, have as much of a 'cardboard' feeling as the Modiano/Dal Negro. They are slick and have a smooth plastic texture to them. Even though they are a very 'plastic' feeling card, they are not extremely slippery, again they are more like a Gemaco or A-Plus card.
The font used on the Graphica cards is a bit round and stout. The graphics are average and the ace is a bit boring. The colors and graphics are average.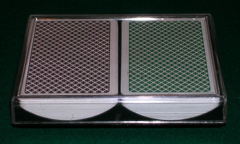 The Graphica cards come in a nice plastic box that resembles the KEM and Copag boxes except for the clear lid. It is a bit easier to remove the decks from the box because of the two curved cutout sections, but you still have to turn the box upside down. The center divider is tall enough to keep the cards from sliding back and forth with the lid closed. The box is about as sturdy as a KEM or Copag box.

I haven't had a chance to play with these cards or test them for damage yet. Damage tests will be posted in a couple days and a more in-depth review will be posted in a month or two. These are nice cards but we'll have to see how they compare to other cards of the same price. HoldemPokerChips is the only vendor of these cards that I know of.
Sample deck provided by


Playing Card Reviews