Carta Mundi Plastic Playing Cards Review

Carta Mundi Playing Cards
These plastic playing cards are made in Belgium by Carta Mundi but the address for defective card returns is in Tennessee. There's nothing really special about these cards, but there's nothing bad about them either. They are good all-around cards and an attractive alternative to Modiano cards.
The backs are rather plain but the black and red colors on the fronts are very dark. The graphics are vibrant and the white is very bright. There is not much of a top card slide problem.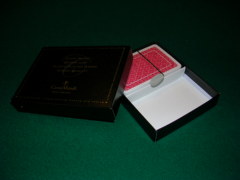 The Carta Mundi playing cards come in a cardboard box with a cardboard divider between the two decks. There is a round cardboard tab on top of the divider that helps to keep the cards separate, and actually does a very good job, the cards do not slide from one deck to the other. That's about the only really good thing that can be said about the box, it's a standard cardboard playing card box.

Playing Card Reviews