This is a Hungarian designed ceramic poker chip with the look, sound, and feel of a Chipco chip but are made in China. Each chip features a unique design with the four suit symbols (clubs, diamonds, hearts, spades). The chips have a bit of an antique look to them. They have a smoother feel than a typical Chipco chip but do not seem to slide any worse when stacked.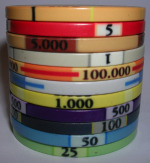 Denominations range from 0,50 to 100,000. These chips utilize the European method of using a comma instead of a period to denote a fractional but this is only evident on the 0,50 chip. There are no currency symbols on the chips.
The higher valued chips (100 and above) feature edge spots but the lower denomination chips do not. All the edge spots contrast nicely with the base colors of the chip although is difficult to read the 5,000 denomination on the brown chip. The denominations are also shown on the rolling edge of each chip, except for the 0,50.
Sample sizes were 39.12, 39.11, 39.13, 39.15, 39.16, 39.16, 39.08, 39.13, 39.12, 39.12, and 39.05mm. Eleven chips stacked together was 36.8mm high (3.35mm per chip). Sample weights were 9.90, 9.92, 9.88, 9.95, 9.74, 9.84, 10.02, 9.94, 9.85, 9.77, and 9.85 grams.
The cost is HUF18,800 for 100 chips in a clear plastic case. A 300-chip set costs HUF49,980 and a 500-chip set costs HUF79,990. This is approximately 180EUR for the 300 set (144EUR without VAT), and 290EUR for the 500 set (232EUR without VAT). They also sell also sell 100-chip and 200-chip sets, and individual chips.